Who wishes they could attend more meetings?!!  We all know what it feels like to come out of a meeting knowing there was no point being there… or that it could have been so much more productive if only it had been better run.
Typically we waste about 200 hours a year in unproductive meetings, according to one survey I've read. That's the equivalent of a week we could have spent on the beach or exploring an exciting new city!
Why meetings fail
The key reasons cited for those poor meetings were:
Going around and around in circles
Irrelevant agenda items
Endless discussions without resolution.
Sound familiar? If so, September is a great time to shake things up and start afresh: to declutter, clear and prioritise after the summer. To think about how you can manage your meetings and projects more efficiently to deal with change and bring people along. In fact, it's essential in this fast-changing world where everything keeps moving at pace.
The secret to successful meetings is planning and facilitation. Facilitation is sparking a great deal of interest at the moment because it supports team collaboration, agile teams, project and change management and answers the business need for skilled facilitators for meetings and workshops.
Facilitating better meetings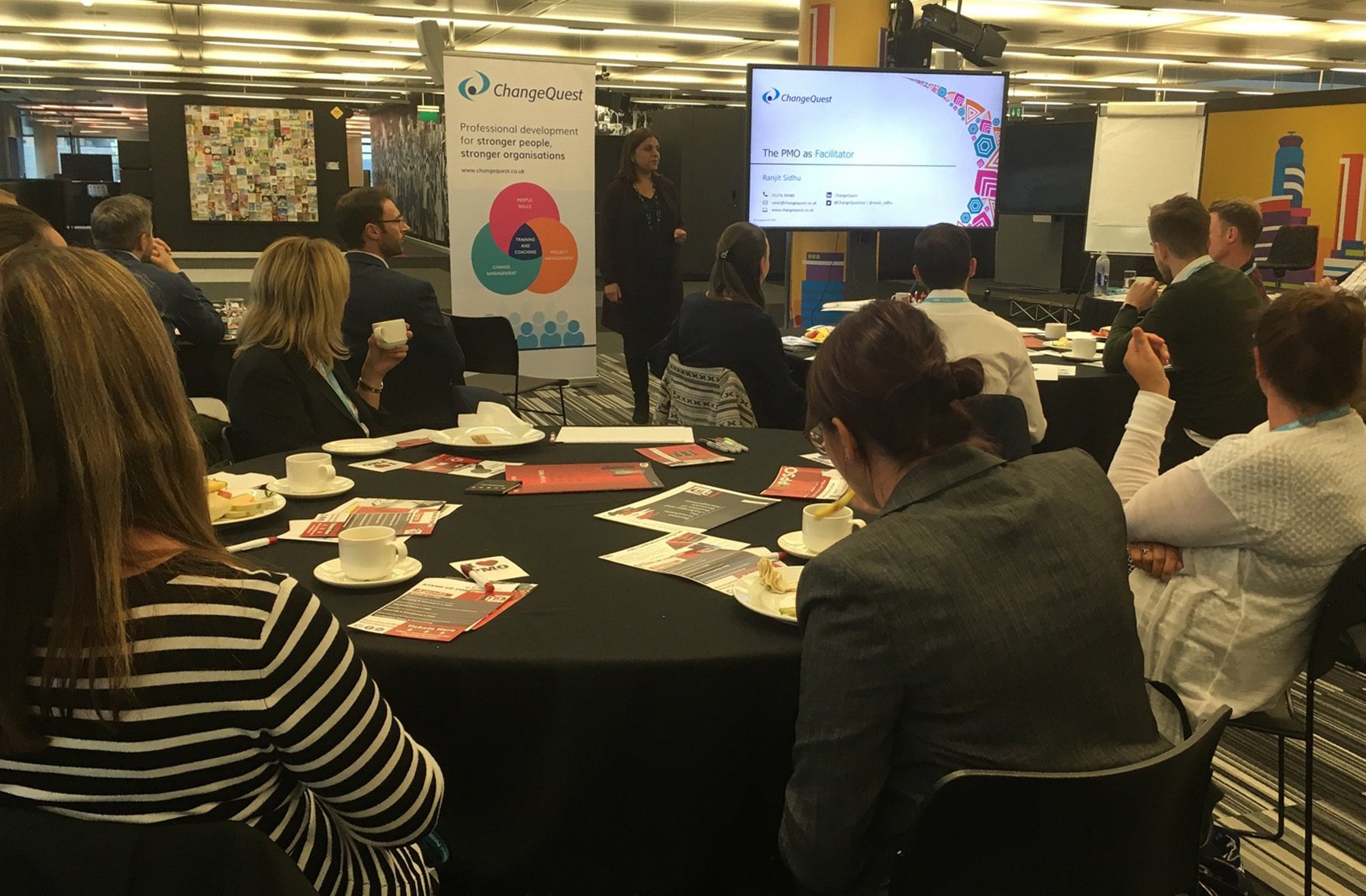 I'm just back from presenting a masterclass on facilitation for PMOFlashmob at the BBC's MediaCityUK in Salford Quays, and thought I'd share here top tips from that event:
Planning is an incredibly important part of facilitation – it's where the thinking has to go into exactly how we will achieve the outcomes of the task.
Start by clarifying the objective – the Main Task. Then break this down into sub- tasks.
Consider the degree of uncertainty of these tasks:
Certain: the question/problem is clear and the answer is easily obtained from the people in the group.
Complex: the problem is relatively clear but the solution has to be developed.
Uncertain: the nature of the problem/issue is unclear and has to be defined and clarified. Only then can a solution can be explored.
Choose an appropriate process and format for each task.
Consider and schedule the time required for each task.
Divergent-Convergent thinking
A very useful approach is that of Divergent-Convergent thinking. Often workshops or meetings spend time identifying lots of ideas/factors and getting them all out on the table. Then they run out of time. The organiser may then offer to collate all the factors identified and share them with participants but nothing else happens because no decision was reached. Better planning would use appropriate 'Divergent and Convergent' techniques. Divergent techniques open up ideas, such as through brainstorming. You then need to add a Convergent thinking tool to narrow things down, such as a prioritisation matrix. This helps lead to specific actions, rather than leaving ideas hanging. Click here to see this in action in our timelaspe video.
Developing your Facilitation Skills
If you'd like to know more, including about how to use the Process Iceberg Model (how people and processes work together) you may be interested in our 1 day Practical Facilitation Skills training.
There is the option of a 1 day introductory session, or the full APMG Facilitation Skills certification. Both cover how project and change managers can plan meetings to use time efficiently and achieve the maximum value possible in the time spent.
Contact us today to find out more about how to become a skilled and confident facilitator.